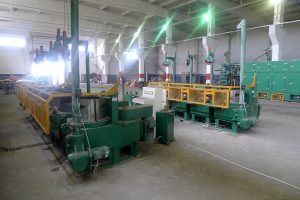 WELDING ELECTRODE PRODUCTION PROCESS
There are generally 8 steps for making electrodes
1 Wire coil processing
Getting rid of the rust and iron plate on the surface of steel wire by Descaling Machine.
Making the head of wire coil into sharp shape like a taper by Tip roller, then tapering head tread the wire drawing dies on wire drawing machine.
Drawing wire to the demanding diameter by wire drawing machine as a coil.
Cutting and Straightening by wire cutting machine to make coil welding bars.
2 Flux mixing
Mixing raw materials by proportion which should base on different standard and size of welding electrodes.
3 Sodium potassium Silicate
Making proportion of Sodium potassium Silicate base on different standard and size of welding electrodes.
4 Flux mixing
Dry mixing by Mixer to make flux equally.
Wet mixing with Sodium potassium Silicate by Mixer.
After will stir the wet welding powder manufactures the powder agglomeration( Hydraulic extruder only).
5 Coating procedure
Two ways for coating:
Screw coating:
Feeding wire from wire feed machine to screw extruder by pressure force at the
45 °angle. Then push flux forward by screw in screw extruder to coat the surface of coil.
Hydraulic coating:
Put powder agglomeration into hydraulic extruder while wire feed machine delivery wire to hydraulic extruder by pressure force. Hydraulic extruder push flux lump forward to coat on wire through machine head.
After coating, wire with coating will pass on Head tail grinding machine automatically to wear out thearc striking terminal and clamping terminal to be an electrodes.
Electrodes then are delivered to the pre-auxiliary line to inspect eccentric and cripples. Pick up the unqualified electrodes to recycle.
6 Words Printing
Print models and brand on electrodes.
7 Drying 
Drying electrodes through low temperature zone, medium temperature zone, high temperature zone, cooling.
8 Second time inspection, weight, packing and warehouse.
Please follow and like us: