Marine Azimuth Thruster/Marine Rudder Propeller Remote Control System [Back] [Search Related Products]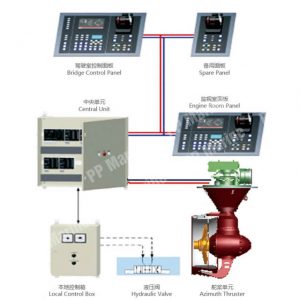 Marine Azimuth Thruster/Marine Rudder Propeller Remote Control System
This remote system is follow-up propulsion control system based on PLC controller. The steering control and main engine speed control can be done through a combined control handle in the bridge console. Rotate the handle horizontally, and the rudder propeller can be rotated around 360 degrees, and move the handle forward and backward to govern the speed of the main engine. In case of the follow-up system failure, you can actuate the back up control system quickly to control the rotation and main engine speed, or can transfer to local engine control and rotation control.
We can design and produce marine azimuth thruster system based on your requirements.
Please email to admin@eumarine.com for more information.
Please follow and like us: