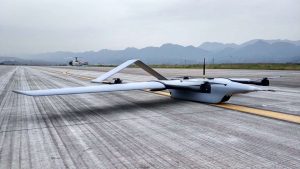 PP-10V Electric type vertical take-off and landing fixed-wing UAV drone
The aircraft platform adopts fixed-wing & quad-rotor composite layout, which can take off and land vertically. It does not need a runway during take-off or landing, which reduces the restrict conditions of take-off and landing.
The fuselage adopts composite material integrated forming process, and the structure of the aircraft is strong and light to enhance the payload.
The vertical power take-off stage power system uses a lithium battery drive motor, which makes the take-off and landing more stable.
The body is designed to be quick assembling and disassembling in emergency situations or military operations.
It is ideally for professional applications like reconnaissance, survey, surveillance and mapping.
State-of-the-art technology and design :
Intelligent target following
RTK+PPK precision positioning (optional)
Pod-dedicated touch-screen terminal (optional)
Triplex redundancy EF series autopilot
30km distance high definition image transmission
Fully automatic/semi-automatic/manual flight mode
Modular payloads management
Aviation level reliability
Application :
Aerial photogrammetry, geological exploration, land and resources inspection and other operations;
Patrol tasks in complex terrain areas such as borders;
Inspection of oil and gas pipelines, power facilities and water conservancy works;
Rivers, lakes, coastal water inspections, law enforcement evidence collection operations;
Urban air surveillance, accident scene investigation, air command and other public safety applications;
Ultra-long-distance, ultra-long navigation inspection application;
Technical specification:
1. PP-10V Flight platform
Body – UAV frame made of: Fiber Glass 30%,Carbon fiber 65% ,Aluminum adapting parts 5%
Note: Composition may vary +/- 5% in accordance with the humidity tests run before production stage
Body Length: 1.9m
Wingspan: 3.3m
Max take-off weight: 21kg±5% altitude≤1000M 19kg±5% altitude≤4500M
Payload : 0.5~5KG
Duration: 2h@1.2kg
Cruising speed: 75~90km/h (Based on 1000M altitude test)
Ceiling : 6000m MSL
Wind resistance : Grade 7 (Cruise)
2. EF-LITE Triple Redundant UAV Autopilot
Triple Redundant Autopilot
3 complete autopilot system working together for detecting system failure. When one or two autopilot function has problem,alternatively the left will take control and make sure safety of UAV
Gyroscope range: ±2000dps
Data storage: 4GB
Optional external IMU: support
GPS Positioning accuracy : <2.5m & GPS Update frequency: 10Hz
RTK/PPK GPS positioning accuracy : horizontal <1cm & vertical <0.2 cm
Aerial POS data: 10k
Extension & Interface – support speed acquisition; support cylinder temperature collection; support oil quantity collection; support CAN bus; PWM interface: 10 road output 2 Road acquisition; analog signal: 4 road 12bit (support extension); S-BUS bus: 1 road input ; serial port: 3 road;
Weight-flight control navigation module: 86g; GPS module: 41g
Size- flight control navigation module: 88.5*79*23mm; GPS module: 55mm (diameter) *13mm (height)
Operating conditions-Voltage: 6~26V/ power consumption < 10W); ambient temperature: -20 ℃~70 ℃ / storage temperature: -40 ℃~85 ℃;
3. ET30V30 Image and telemetry transmission (overall upgrade)
Working frequency: 1430~1444MHz
EIRP: 500mW
Communication distance: 720p@30km – 1080p@30km
Supported video input :HDMI 1080p24 ,1080p25 ,1080p30 ,1080p50 ,1080p60 ,1080ip50, 1080ip60 ,720p24 ,720p30, 720p50 720p60
Supported video output: HDMI 1080p24 ,1080p25 ,1080p30 ,1080p50 ,1080p60 ,1080ip50, 1080ip60 ,720p24 ,720p30, 720p50 720p60
Weight (without antenna): Sky side – 124g & ground side – 176g
Size (without antenna) : Sky side – 111×59×20mm ground side –100x100x24mm
Antenna Weight: Sky side – 10gx2 & Ground side – 400gx2
Antenna Length: Sky side – 13.6 cm & Ground side – 120cm
Working temperature: -10~60℃
4. G20T-30X35 three-axis double light pod
Basic parameters
Weight: 630g
Size: D=110mm,H=160mm
Power consumption: usually≤15.6W,Max≤36W
Pod
Type: Three axis mechanical stability
Pitch: ﹢45°~ -135°
Steering: 360°×N
Rolling range:±60°
Stable accuracy : 0.01°
Tracking module: Built-out
Dynamic positioning accuracy:≤30M
Visible light camera
Lens:30 x optical zoom F=4.3mm (wide)~129.0mm (tele) F1.6 ~ F4.7
Sensor: Sony Starlight CMOS Sensor
Image format: FHD,1080p@30
FOV: 63.7°(Wide-angle end)~ 2.3°(Long focal end)
IR camera
Pixels : 640×512
Pixel size: 14μm
Tracking module
Minimum tracking target:10×10 pixel
Minimum tracking contrast : 0.05
Built-in storage: 16G
Power and power consumption: 12-26V 6W
Size:108x85x24mm
Weight:152g
Others: support Picture in picture (PIP) and with OSD function.
Interface
Video output: SDI-OUT
Control interface: CAN、S-BUS、RS232
Tracking module: SDI-IN 、AV-IN、HDMI-OUT、SDI-OUT、USB
Power:18-26V
Operating conditions:
Work temperature: -20℃~55℃
Storage temperature: -20 ℃ ~60 ℃
5.Integrated Control Ground Station (Optional)
The integrated ground station integrates functions of vehicle platform control, real-time image display, data transmission system, image transmission system, remote camera control and so on. The flight path and flight status data can be set up through the ground station software, and the camera can be controlled remotely through the rocker.
Integrated Ground Station Parameters:
Microsoft Windows 7 32/64 bits;Microsoft Windows 8 32/64 bits; Microsoft Windows 10 32/64 bits
Please follow and like us: